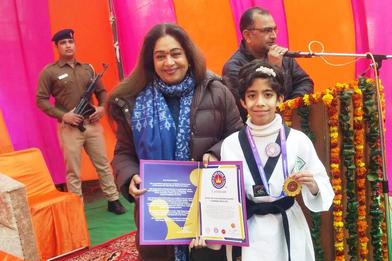 Youngest Second Degree Black Belt holder in Taekwondo
Tarushi Gaur (born on 16th March 2009), D/o Vikrant Gaur,
native of Chandigarh, India. She has been practicing taekwondo at an young age. Tarushi has achieved her 2nd Degree Black Belt in TAEKWONDO, certified and issued by Kukkiwon (World Taekwondo Headquarters), Korea, on 28th November 2018.
She has achieved this degree at an age of 8 years, which made her to set the record title as the "Youngest 2nd Degree Black Belt holder in Taekwondo Martial Arts.Tarushi's High Range Talent in martial arts has been appreciated by Kirron Anupam Kher – Member of Parliament, Loksabha, Chandigarh, India.