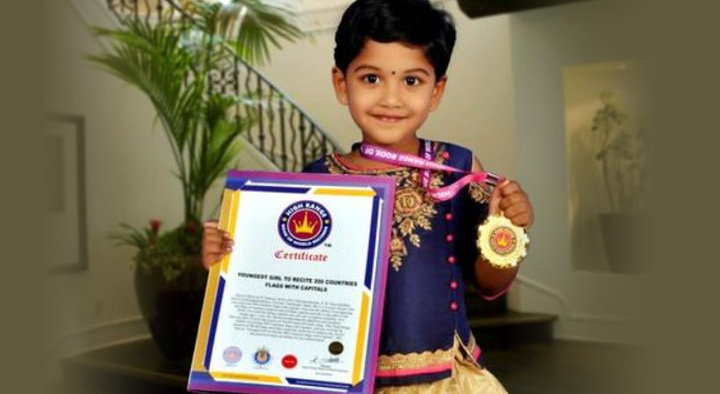 YOUNGEST GIRL TO RECITE 200 COUNTRIES FLAGS WITH CAPITALS
Diya.T (Born on 8th January 2015),  D/O Thirunavukarasu. P & Vijayalakshmi, native of Gerugambakkam, Chennai, Tamilnadu, India.
She is a 4 years old girl who can recite the 200 countries flags with capitals. Diya has the ability of recognizing the flags of various countries and tell their capitals and she is also able to tell them vice-versa by telling capitals also she can recognize countries. At a tender age 1 year, she started recognizing the alphabets and numbers. She was able to solve the puzzle of World maps and India maps.
This High Range Ability of reciting 200 Countries flags and Capitals, and also solving the puzzles of World maps and India maps has made her to achieve the record title as "Youngest Girl to Recite 200 Countries flags with Capitals". She has received many accolades for her achievement.