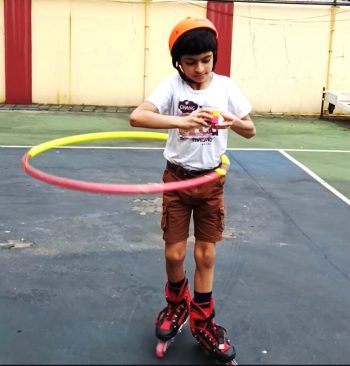 YOUNGEST KID TO SOLVE FIVE RUBIK'S CUBES WHILE DOING INLINE SKATING & HULA HOOP
Harry Paul (Age:10 years 3 months & 27 days) S/o Paul George, native of Thrissur, Kerala, India, presently studying at Nirmala Matha Central School. He was able to solve Five Rubik's Cubes, while doing Inline Skating and also Hula Hoop in a duration of just 1 Minute & 28 Seconds and thus created a new World Record. This record was attempted on 28 October 2021, at Thrissur. Rubik's Cube needs analytical solving skills, skating needs to balance on wheels and hula hoop requires body movements. He has combined these three activities, a challenging task which was done
successfully and for these High Range skills, he has received many accolades.