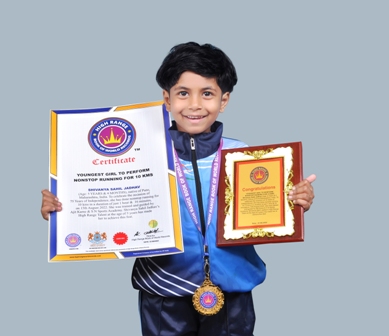 YOUNGEST GIRL TO PERFORM NONSTOP RUNNING FOR 10 KMS
SHIVANYA SAHIL JADHAV (Age: 5 YEARS & 4 MONTHS), native of Pune, Maharashtra, India. To celebrate the occasion of 75 Years of Independence, she has done nonstop running for 10 kms in a duration of just 1 hour & 16 minutes, on 15th August 2022. She was trained and guided by Ajit Karne  & S N Sports Academy. Shivanya Sahil Jadhav's High Range Talent at the age of 5 years has made
her to achieve this feat.