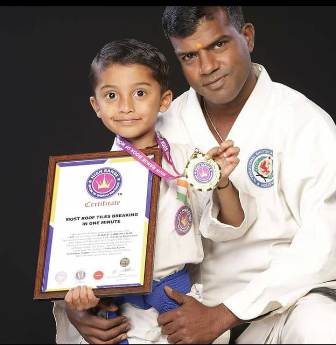 MOST ROOF TILES BREAKING IN ONE MINUTE
Most roof tiles breaking in one minute in single venue is 125, and was achieved by RAGHAV SAHIL BHANGDE
The record was successfully attempted at C. P & Berar High School, Ravi Nagar, on 15 December 2019, Nagpur (M.H), India. The record was attempted to promote Karate and Self defense techniques in daily life. Raghav Sahil Bhangde was trained under the guidance of Vidarbha Karate Association, Nagpur. Sahil's High Range Talent in Martial Arts at an young age has been appreciated.