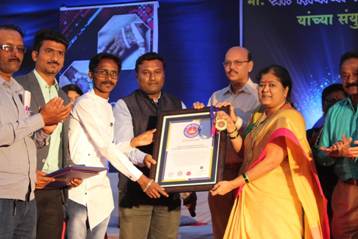 MOST ARTICLES WRITTEN & COLLECTED TO PAY HOMAGE TO SAVITRIBAI PHULE (Multiple Venue)
Nandini Sonawane (Born on 09 January 1968), native of Thane, Mumbai, India. To pay homage to Savitribai Phule (Indian female Educationist), she has made 176 people's from various fields and institutes to pen down and write about her biography. All the written articles were collected and was sent for book publishing.The purpose of this act is that to make the society to cultivate a lifetime reading, learning and preaching habits, which in time is lost due to several reasons and also to pay homage to her because of whom the women has been empowered and were ready to face any kind of challenge in their life.This
High Range Privileged act of honoring the great educationist has made her to set this record. Nandini Sonawane also runs Ramakrishna Paramahansa library, free for all.