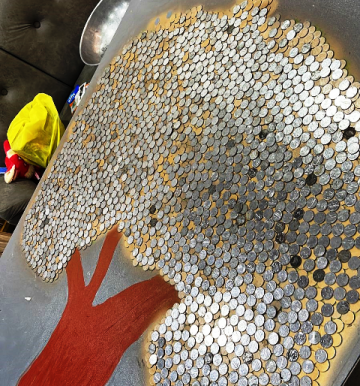 MOST 50 PAISE COINS USED TO MAKE THE ART OF TREE (KALPAVRIKSHA- THE DIVINE TREE)
Diya Shastri (Born on 06/05/2013), native of Gandhinagar, Gujarat, India. Diya has created at  Kalpavriksha (The Divine Tree ) art on 6×4 ft canvas over Ply. A total of 5101 coins ( 50 paise ) have been arranged to form the leaves of the tree. The material used to create Kalpavriksha 50 Paise Coins along with ,Wood from Real Sag Tree, Sand- 5 kgs, Stones, Butterflies Prop, Spray & Acrylic Colours. The record was attempted from 11 September to 19 September 2022, at Gandhinagar. The vision and mission behind the creation of Kalpavriksh using coins was to emphasize on Wisdom and Wealth of our Environment in order to create an awareness to understand the fragility of our environment and the importance of its protection. The High Range Thought of collecting thousands of coins and conveying a
message to the Society was appreciated and also created new World Record.