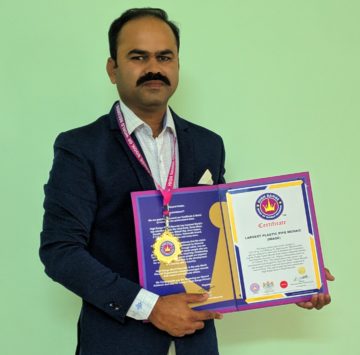 LARGEST PLASTIC PIPE MOSAIC (IMAGE)
The largest plastic pipe mosaic (image) is 1672.25 sq. m (18000 sq. ft), depicting Mr. Bhavarlal Jain and was achieved by Bhavarlal & Kantabai Jain Foundation and Mr. Pradip Vishnu Bhosale (both India) at Bhaunchi Srusthi,
Jain Irrigation Systems Ltd., Jalgaon, Maharashtra, India on 23 February 2021. This largest plastic pipe mosaic was
conceptualized and designed by artist Mr. Pradip Vishnu Bhosale and executed with his team and successfully completed in total of 98 hrs. This achievement has been entered into High Range Book of World Records.