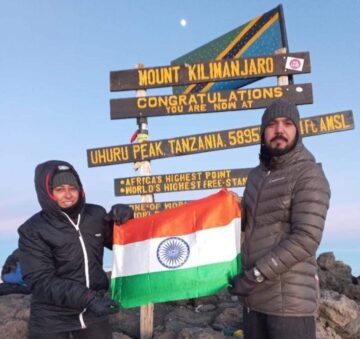 India's first couple to climb Mt. Kilimanjaro, displayed Indian National Flag, sang National Anthem & Performed Sun Salutation
Anurag Choursiya ( Age: 33 Years & 2 Months ) & Sonali Parmar (Age 33 Years & 7 Months), native of Ratlam, Madhya Pradesh, India. The couples have climbed Mt. Kilimanjaro, the highest peak of Africa
on 13 September 2022 . They displayed the Indian Flag, sang India's National Anthem, performed Sun Salutation and thus created a new record. This expedition was done under the guidance of Anand Bansode, Founder, 360 Explorers. The High Range Talent and Patriotic Fervor towards the Country has made them to receive many accolades.