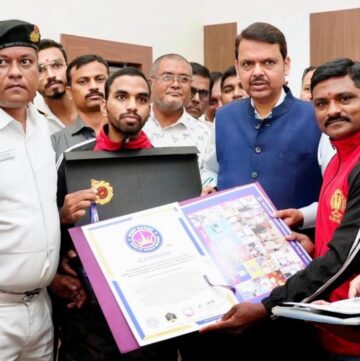 First Indian NCC Cadet to Display Longest 25 feet Saffron & Indian flag on Two Mountains i.e. Mt. Kilimanjaro Africa (19,341Ft.) and Mt. Yunam India (20,049 Ft.)
To commemorate the occasion of birth anniversary of Chhatrapati Shivaji Maharaj & 76th Independence Day "MERI MAATI MERA DESH", Sagar Chandrakishor Kumbhare from Nagpur, Maharashtra, India, has displayed the 25 feet longest saffron flag (represent Maratha Flag) on 19 February 2023 and 25 feet longest Indian National flag on 15 August 2023 and thus created a new record as the first Indian NCC
Cadet to hoist the 25 feet same size flag on as per their occasion, same year 2023 on the top of Mount Kilimanjaro (Africa) and Mount Yunam (6111m) (India). This expedition was organized by one of the top Adventure organizers of India 360 Explorer LLP. Sagar Chandrakishor Kumbhare High Range Talent in trekking and devotion towards the Shiv Chhatrapati Shivaji Maharaj & Independence Day has made
him to achieve this feat. He was trained, guided by Anand Bansode, founder of 360 Explore LLP, Solapur, Maharashtra and Prof. Pravin Shelke, Indian Military School, Wardha, Maharashtra. This Expedition was sponsored by Bharat Travel Point Pvt, Nagpur. Sagar dedicated this expedition to his late Father Chandrakishor M. Kumbhare.