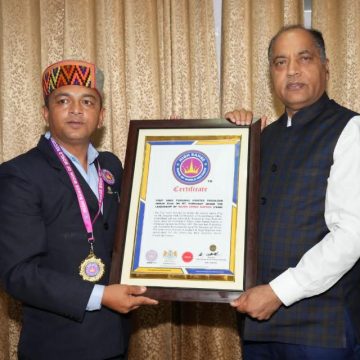 FIRST ARMY PERSONAL HOISTED TRICOLOUR INDIAN FLAG ON MT. DURGAKOT UNDER THELEADERSHIP OF (TEAM
MAJOR ASHOK KAPOOR – The First Army Personal to display the tricolor Indian Flag on Mt. Durgakot Peak (5,818 meter) of Sunderdhunga Valley, Uttarakhand and was achieved by Kumaon & Naga Regiment Army, under the leadership of Major Ashok Kumar Kapoor of 8 Kumaon regiment on 20 May 2022. The team had 30 members
and  13 members have scaled the top of Mt. Durgakot at 5.40 am. The entire Army personal of Kumaon & Naga Regiment were appreciated for the displaying their patriotic fervor towards the Country. He was appreciated by Jai Ram Thakur, CM, Himachal Pradesh.