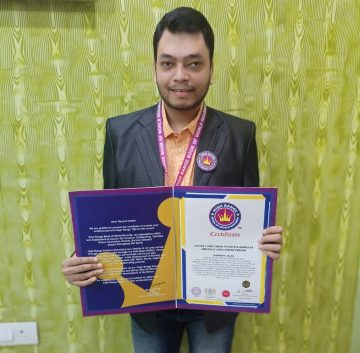 FASTEST TIME TAKEN TO ROTATE BOWLS BY MENTALLY CHALLENGED PERSON
BHAWESH JALAN ( Born on 02 April 1994 ), S/o Ram Gopal Jalan, native of Howrah, Kolkata, West Bengal, India. He is a mentally challenged person and was able to rotate 50 bowls in just 52 seconds and has created a new World Record. This record was attempted on 20 February 2021, at Howrah. He was guided and supported by his brother
Anirudh Jalan and parents. The record was done to inspire other mentally challenged persons and let them know that anything done by them is great by itself. The High Range Ability of a mentally challenged person to rotate most bowls in the fastest time has made Bhawesh receive many accolades.