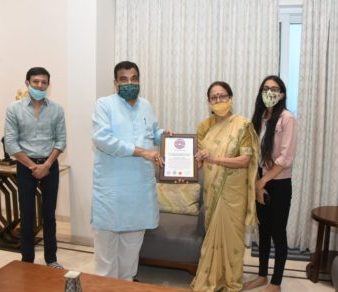 ENCOURAGED MOST NUMBER OF PEOPLE TO DOWNLOAD "AROGYA SETU" APP
DR. KIRTIDA AJMERA, President of BJP Mahila Morcha, Nagpur, Maharashtra, India. To bring an awareness about
Covid 19 and to prevent the spread of pandemic disease, she has encouraged many people to download an app known as "Arogya Setu". It is a application developed by the Government of India to connect essential health services with the people of India to fight against COVID-19. The App is aimed at augmenting the initiatives of the Government of India, particularly the Department of Health, in proactively reaching out to and informing the users of the app regarding risks, best practices and relevant advisories pertaining to the containment of COVID-19. So, by knowing its importance, she has encouraged 193 people to download the Arogya Setu app in their mobile phones from 15th June 2020, 6am to 16th June 2020, 7 pm, and thus made her to set this World Record.