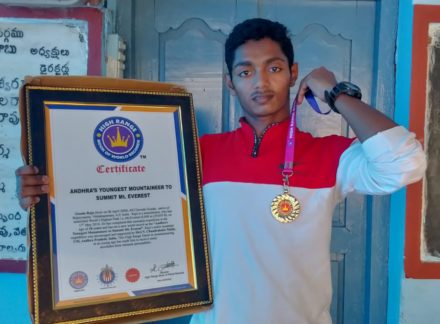 ANDHRA'S YOUNGEST MOUNTAINEER TO SUMMIT Mt. EVEREST
Gosala Raju (born on 06 April 2000), S/O Devudu Gosala, native of Rajayyapeta, Vishakapatnam, A.P, India. Raju is a mountaineer, who has summited World's Highest Peak i.e, Mt.Everest (8,848 m (29,029 ft), on 17th May 2018. He has completed this mountain expedition at the age of 18 years and has set a new world record as the "Andhra's
Youngest Mountaineer to Summit Mt. Everest". Raju's entire mountain expedition was encouraged and supported by Shri N. Chandrababu Naidu, CM, Andhra Pradesh, India. This High Range Talent in mountaineering at an young age has made him to receive many accolades from eminent personalities.